Formation of isothiocyanato complex

Take a test tube with a dilute solution of potassium thiocyanate and add a few big drops of concentrated solution of copper sulfate, while the thiocyanate is present in excess amount. When this is done, then a nice green solution is obtained, which however, slowly turns turbid. The left picture shows the result immediately after adding the few drops of copper(II) solutions, the right picture shows the result after approximately 1 minute.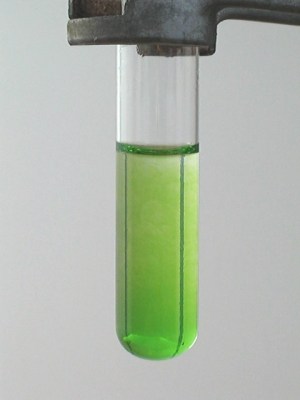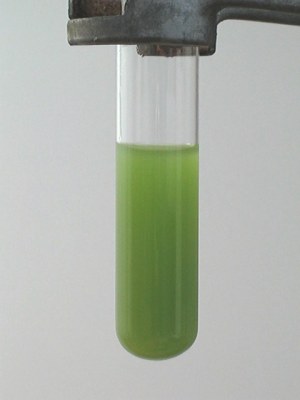 Transfer the turbid green liquid to a wide test tube and set it aside for a somewhat longer time. After an hour or so, two precipitates have settled. A black precipitate has settled at the bottom, a white precipitate has settled above the black precipitate and a very fine yellow suspension is visible in the liquid, which has not yet settled and which takes a much longer time to settle. The two pictures below show the precipitates.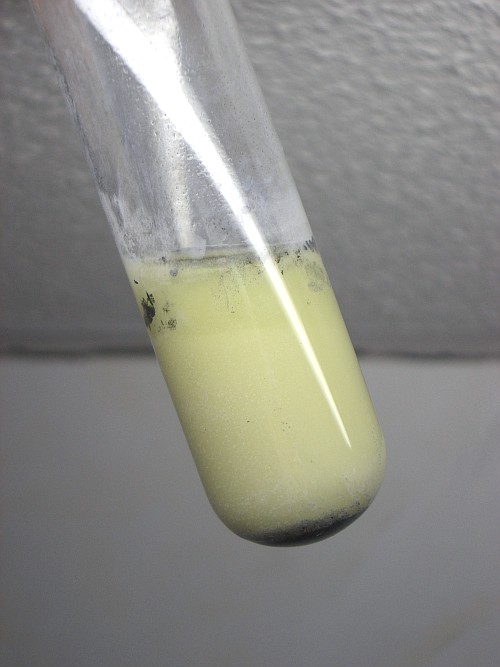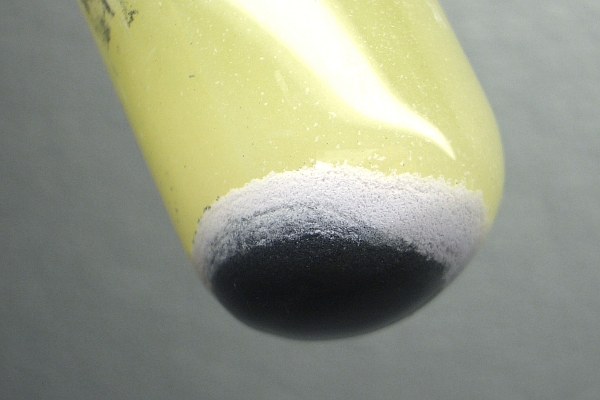 Shake the test tube with the two layers of precipitate and let settle again. This again results in fastest settling of the dark compound, but now the dark compound also is mixed with the white material. The liquid itself remains turbid and light yellow. The picture below shows the test tube after it has been shaken and the precipitate has allowed to settle again.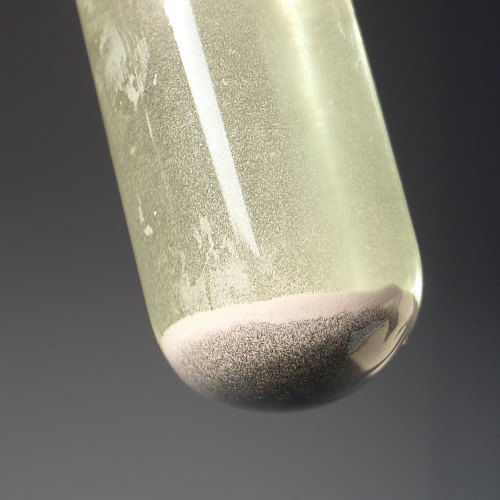 A small video is available of the making of the green complex and the slow change to turbidity. Download size is approximately 3 MByte.

Formation of black copper(II) isothiocyanate

Totally different results are obtained when a concentrated solution of copper(II) sulfate is added to a fairly concentrated solution of potassium thiocyanate, with copper(II) ion in excess. When this is done, a black precipitate is formed at once, which remains black on standing.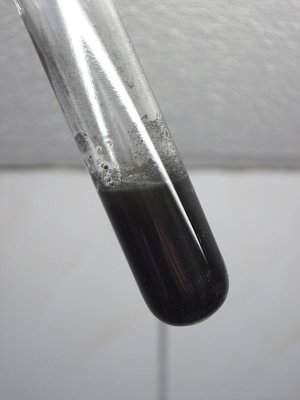 After some time of standing, the black precipitate has settled and a turbid brown liquid remains. After much longer standing, a very thin lighter layer of precipitate covers the black precipitate.
This reaction also can be viewed in a video (download size 415 KByte).

Influence of presence of sulfite ions
When sulfite ions are added to the mix, then things change drastically. Sulfite acts as a mild reductor and in this case, it immediately and quickly reduces any complex or precipitate with copper(II) in it to a copper(I) compound.

Prepare a solution of potassium thiocyanate to which a similar amount of sodium sulfite is added. Of both chemicals add a small spatula full of solid to a few ml of water and swirl to dissolve. To this thiocyanate/sulfite mix add a few drops of concentrated solution of copper sulfate. When this is done, a grey precipitate is formed, which immediately turns white.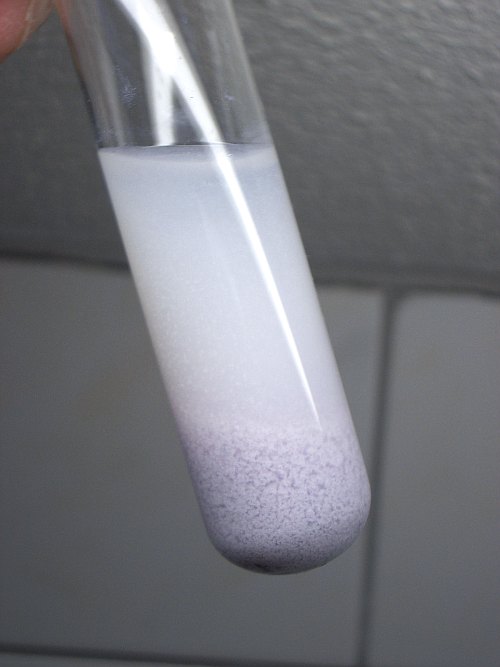 A video shows the formation of the grey precipitate and the immediate change to white color (download size is approximately 1 MByte).

When the experiment is repeated with a similar concentration of thiocyanate (1 small spatula full of potassium thiocyanate) but the amount of sodium sulfite is reduced to a tiny pinch (just a few mm³ of crystal powder), then a beautiful effect is obtained with a precipitate flashing through different colors. The final result is a white precipitate with tiny black specks in it.
The video, showing the formation of precipitate after adding a few drops of concentrated solution of copper sulfate, is well worth the download time (download size is approximately 2.5 MByte).

Finally, the effect of sulfite on an existing black precipitate of copper(II) isothiocyanate is investigated by adding an excess amount of a solution of sodium sulfite to a dark precipitate of copper(II) isothiocyanate.
When this is done, then quickly the precipitate changes color from black to white. This is demonstrated in a video (download size is 1.3 MByte).

Oxidation of copper(I) thiocyanate
Copper(I) thiocyanate is a fairly strong reductor, which can be oxidized easily (e.g. a mix of CuSCN and KClO3 deflagrates when finely powdered). In this experiment, the copper(I) thiocyanate, prepared in the experiment above, is rinsed with water and almost all water is decanted from this, resulting in a test tube, filled with some wet CuSCN. On top of this liquid with the suspended precipitate, carefully some concentrated nitric acid was poured.
This results in oxidation of the solid, the acid 'eating' through the solid. It is remarkable to see that the upper layer of the precipitate turns black before it is completely oxidized and goes in solution. The nitric acid first causes formation of black copper(II) isothiocyanate, but quickly the thiocyanate is completely destroyed by the acid. The following pictures show how the acid eats through the precipitate.